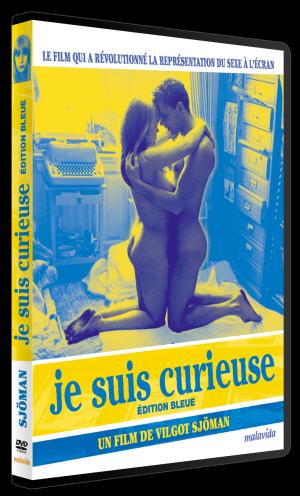 JE SUIS CURIEUSE EDITION BLEUE
By : Vilgot Sjöman
With : Lena Nyman, Vilgot Sjöman, Börje Ahlstedt, Peter Lindgren, Chris Wahlström
Suède, 1968, PAL, 1.66 - 106 mn
zone 2, N&B, mono
13.00 €
English title: I AM CURIOUS (BLUE)
Original title: JAG ÄR NYFIKEN – EN FILM I BLATT
Directed by : Vilgot Sjöman
With : Lena Nyman, Vilgot Sjöman, Börje Ahlstedt, Peter Lindgren, Chris Wahlström
Swedish, 1967, PAL, 1,37 - 106 mn
zone 2, black and white, mono
Original Version with French subtitles
A parallel film to Vilgot Sjöman's controversial I AM CURIOUS (YELLOW), I AM CURIOUS (BLUE) also follows young Lena on her journey of self-discovery. In I AM CURIOUS (BLUE), Lena confronts issues of religion, sexuality, and the prison system, while at the same time exploring her own personal relationships. Like I AM CURIOUS (YELLOW), I AM CURIOUS (BLUE) freely traverses the lines between fact and fiction, employing a mix of dramatic and documentary techniques.
The same movie with the same characters, cast and crew as I AM CURIOUS (YELLOW) but with some different scenes and a different political slant. The political focus in I AM CURIOUS (BLUE) is personal relationships, religion, prisons and sex. Blue omits much of the class consciousness and non-violence interviews of the first version. Yellow and Blue are the colors of the Swedish flag.
The film was created in two parts: I AM CURIOUS (YELLOW) is the 1st part.
Prohibited under 16 years old
Restored version - new subtitles
BONUS : chapitering – Booklet (24 pages)
Watch a video excerpt :
Extrait "Je suis curieuse - Version Bleue"