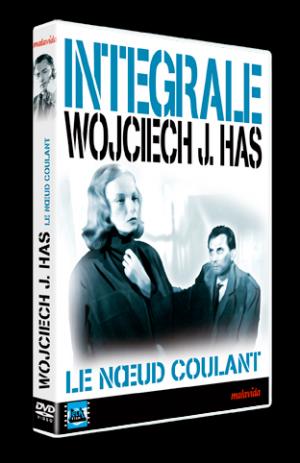 LE NOEUD COULANT
By : Wojciech J. Has
With : Gustaw Holoubek, Aleksandra Slaska, Teresa Szmigielowna
POLOGNE, 1957, PAL, 1.66 - 105 mn
zone 2, N&B, mono
Not available for sale now
English title: THE NOOSE
Original title: PETLA
Directed by : Wojciech J. Has
With : Gustaw Holoubek, Aleksandra Slaska, Teresa Szmigielowna
Poland, 1957, PAL, 1.66 - 105 mn
zone 2, black and white, mono
Original version with French subtitles.
1958's THE NOOSE, Has' debut feature proper, established his signature style: using the work of a Polish literary great as a source, he creates a hermetically sealed world in which the story's complexities and layers are laid out before our eyes. Set in one day — the protagonist's last — it follows a young drinker through the bars and dark, contained streets of Warsaw. Though gloomier than what would follow, its shadowy expressionistic tone and nuanced treatment of complex subject matter nevertheless intoxicate.
Adapted from Marek Hlasko's novel "The First Step in the Clouds" , Has' feature debut is cinematic delirium tremens, as young man Kuba Kowalski escapes his cramped flat to wander from bar to bar through the dark streets of Krakow. The metaphorical noose tightens as Kuba, nearly saved by the love of a good woman, dives deeper into hallucinatory intoxication.
The action is limited to a single day, with camera stubbornly accompanying the protagonist in his apartment and throughout his useless wanderings about town. A purposely slow narrative tempo and expressionistic tones in the scenery combine to build a mood of hopelessness. The film depicts the state of mind of its protagonist, who finds himself in a desperate situation. Critics universally underlined the pessimism of the film, though some also noted its creative qualities.
A study of alcoholism with an excellent performance by Gustaw Holoubek as Kuba, a man who helplessly tries to battle his addiction before ultimately giving up and committing suicide.